Rite of passage – the 'Drake Shake'
Our growing leadership skills were tested on the way back to Argentina as we crossed the notorious Drake Passage between the Antarctic Peninsula and the southern tip of Argentina.  We experienced wind gusts up to 70 knots (130 km/hr; 80 miles / hr) with sustained winds of 45 knots (83 km/hr; 52 miles / hr) and waves up to 12 metres (40 feet) for more than 10 hours. The MV Ushuaia rolled, pitched and shook through the onslaught but handled it well.  We supported each other to laugh, hold on tight and persevere!  Nobody on board slept a wink that night!!
Crossing the Drake Passage is often described as like being inside a washing machine- and that is exactly what it felt like to me.  This rite of passage back to the 'real world' from the majesty of Antarctica has helped prepare us to fight for climate action, especially for the 1,246 kids of the #kidscareaboutclimatechange contest!!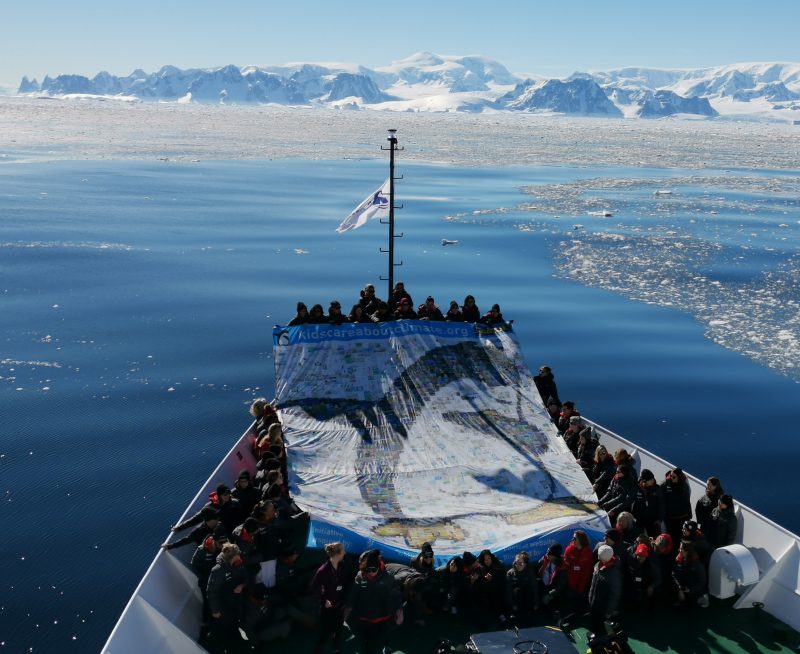 Another chance to launch the flag!
A few days later, the wind dropped off and the sun shone sparkling diamonds across the ice-studded sea and glinted off glacier topped mountains in the distance.  What better setting to photograph the #kidscareaboutclimatechange flag than on the deck of the MV Ushuaia with this stunning Antarctic scene as a backdrop???
The 80 women with science backgrounds that make up #TeamHB3 of Homeward Bound and the Homeward Bound leadership team helped hold and photograph the flag once again, and they inspired the contest that led to its creation!  Thanks to the leadership team, there are now 80 more women ready to do whatever it takes to combat climate change!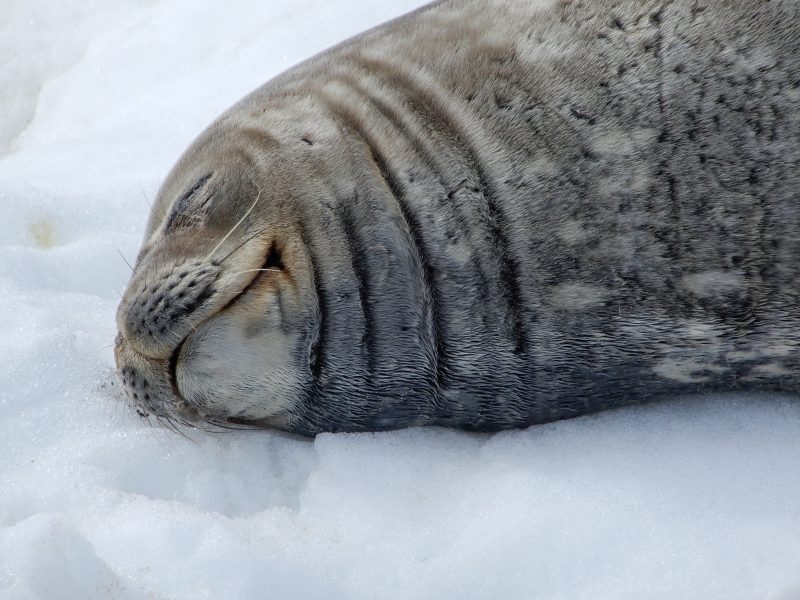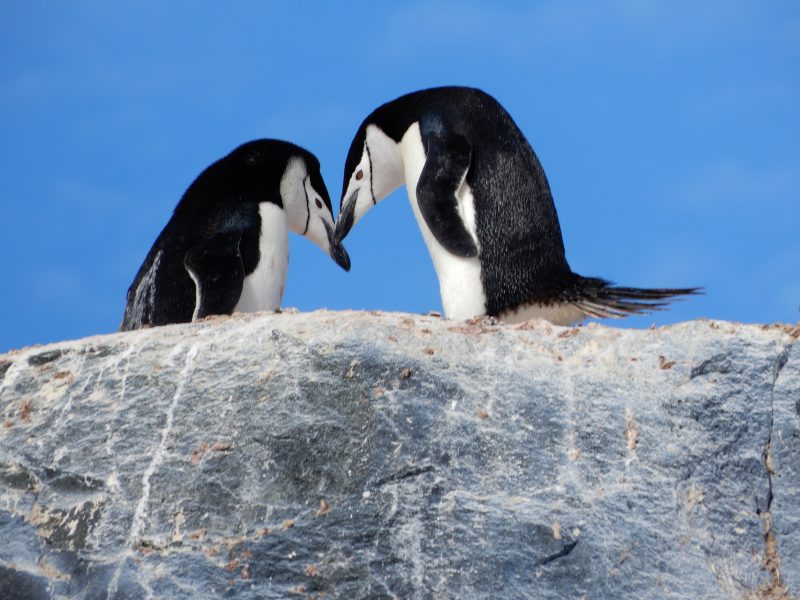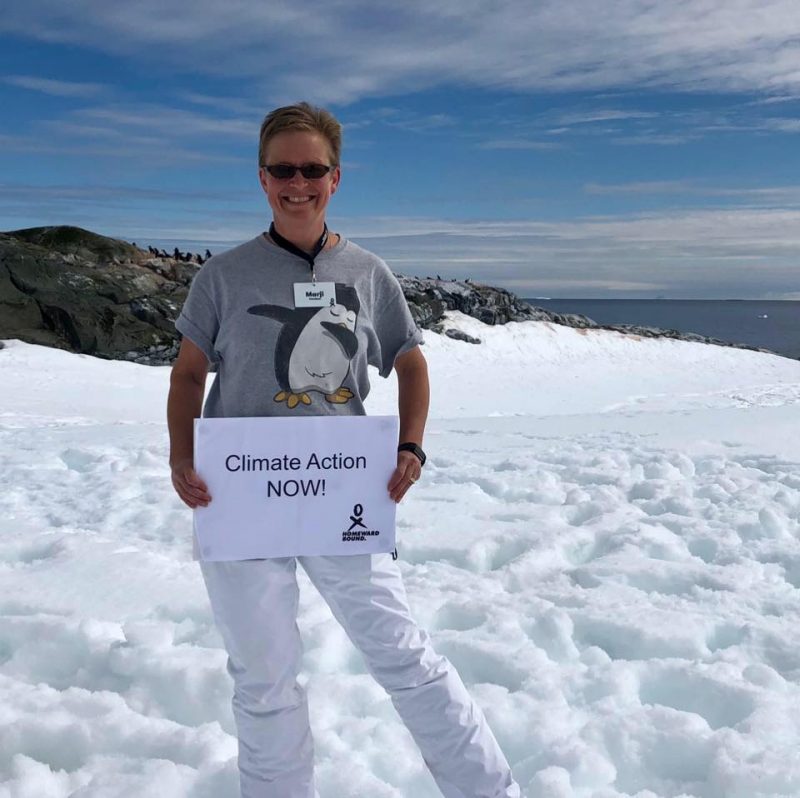 Launching the flag !
Where?  Hydruga Rocks, Antarctic Peninsula
Launching a flag as HUGE (7 m by 5.18 m) as the #kidscareaboutclimatechange banner in Antarctica is not an easy task.  First, it can't be windy because if the flag blows away, our expedition would be in big trouble for polluting a relatively pristine wilderness.  AND Antarctica is in general the highest, coldest and windiest place on Earth!  Second, the flag is HUGE and requires a landing site with enough space to lay it out and not get in the way of wildlife.  After all, Antarctica is their home and they have right of way!  Finally, as we found out in the next few days after this, often ice builds up on the rocks or the beach making it too dangerous to land.
As it turned out, we had a gorgeous sunny & calm day with minimal ice at Hydruga Rocks on 7 January 2019!  The first task when stepping off the zodiacs (inflatable boats that transfer us from the big ship to the landing site), was to avoid sleeping Weddell seals on either side of our path!  Then we had the pleasure of hearing, smelling and watching a colony of chinstrap penguins go about their business as we got ready to take pictures!  The downside to this is that it was way too hot for the penguins and seals – they are used to keeping warm, not cool and bright sunny days with no wind make it easy for them to overheat!
The launch!!
In the end, the best option was to lay the flag in the snow.  Because it was a sunny day, it was easy for me to dry it later out on the deck of the ship.  I was overwhelmed and somewhat in disbelief to finally be launching it after all it took to make the flag, get it to the ship and then wait for the right conditions!  So many people, so much help, so much inspiration – THANK YOU to all!!
Later, some stories were published around the world about the launch: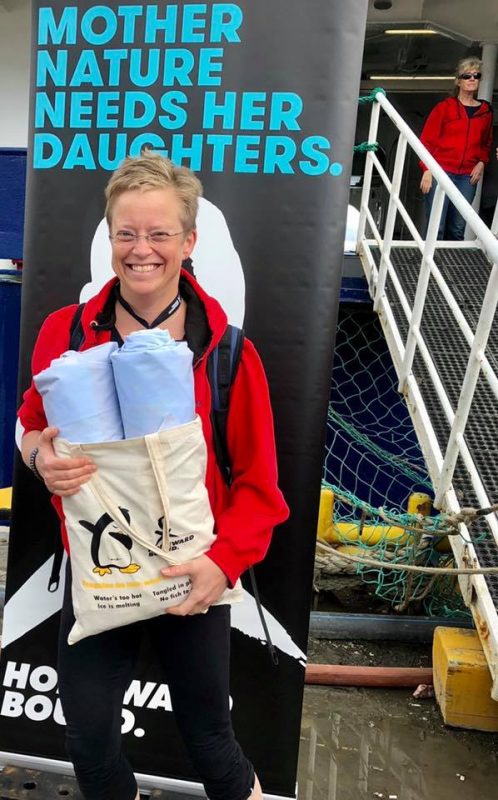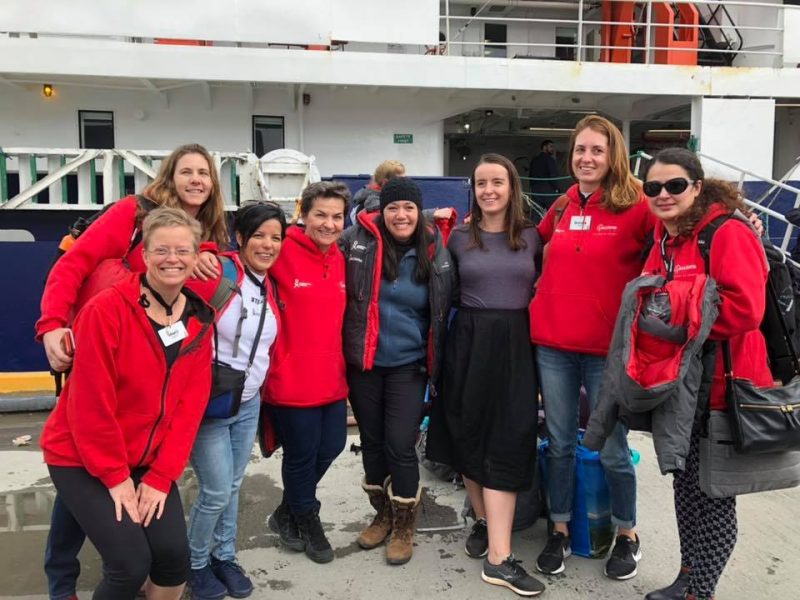 The flag made it!
On 31 Dec 2018, I was beyond excited to have made it all the way to the dock in Ushuaia with the GIANT #kidscareaboutclimatechange flag intact!  There was a chance I could not get it there due to luggage restrictions.  The flag alone weighed 6 kg, and I had to bring my parka and all the winter gear, plus a coral polyp costume and a penguin onesie!!
Getting on-board!!
Watch a video I took just before catching the bus to the pier to board the ship!
Here I am with the Western Australian Homeward Bound team, posing with the amazing and inspirational Christiana_Figueres!! So lucky to even meet her, much less spend 3 weeks on a ship with her!!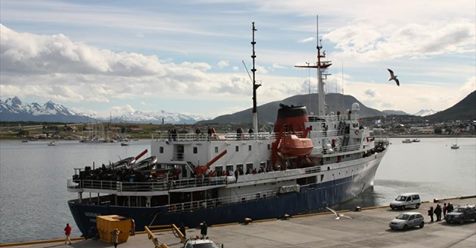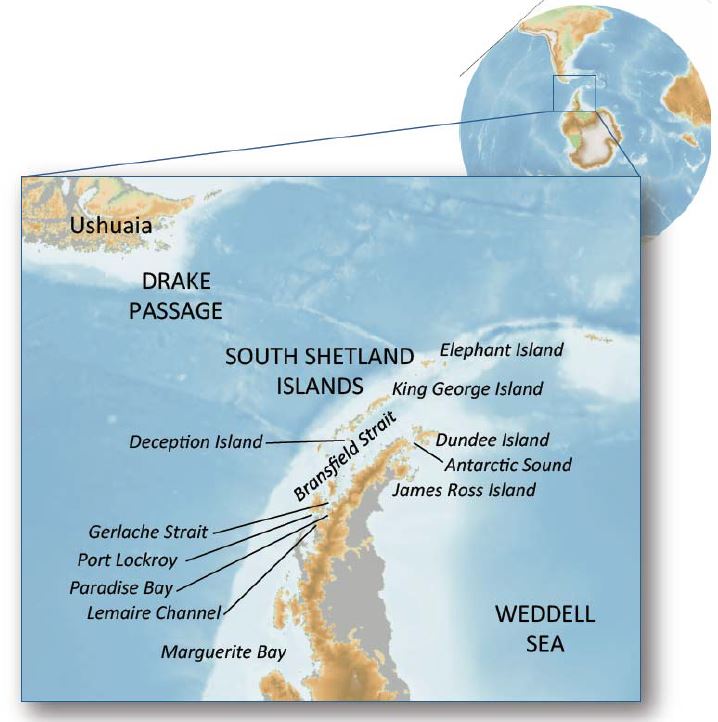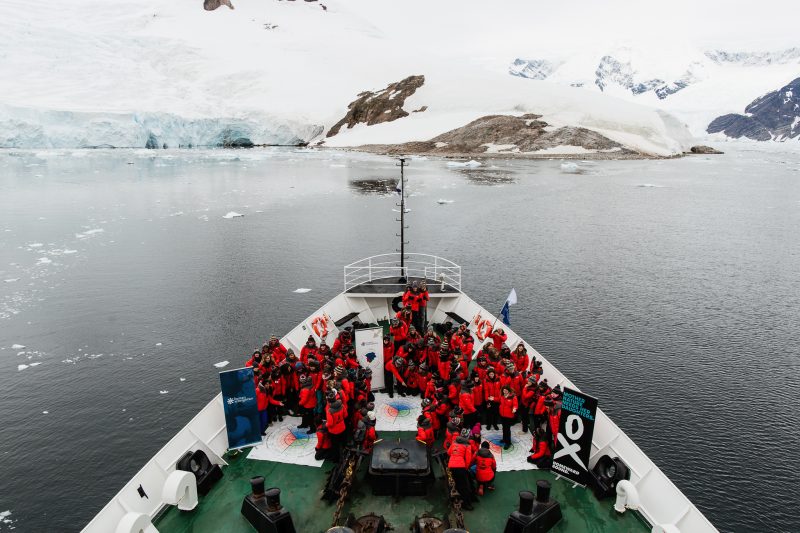 Today, I fly to Buenos Aires, Argentina (via New Zealand) on my way to Antarctica!!  On 31st December, I'll set sail for Antarctica with 80 women scientists on a leadership journey to combat climate change with Homeward Bound and the GIANT #kidscareaboutclimatechange FLAG!!  Read on to find out how you can follow my journey:
Track the ship
Track me personally
Get social media updates from Homeward Bound:
• Facebook, daily updates: https://www.facebook.com/homewardboundprojects/
• Instagram, daily updates: …
https://www.instagram.com/homewardboundprojects/
Want your own mini version of the flag?
You can wear it on a t-shirt or hang it on your wall as a poster – visit my Teespring store here!
This will help get the flag to Antarctica, as well as create a book and art exhibit of the drawings!!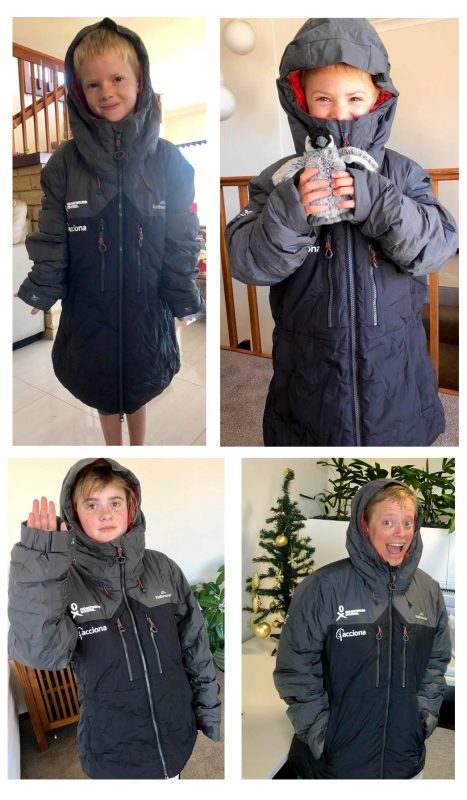 Not long now!
Just 21 days until I take the GIANT #kidscareaboutclimatechange flag to Antarctica with 80 women scientists!!
How cold will it be?
I'll be visiting the Antarctic Peninsula which is slightly warmer than the rest of Antarctica.  In January,  here are typical temperatures:
Max average t°: -2 °C (28 °F)
Min average t°: -8 °C (18 °F)
It could be much worse if I was there in winter, but I'll still need lots of warm clothes to keep warm (3 pairs of socks, thermal underwear, ski pants, gloves, hat, etc).
To help with this, each Homeward Bound adventurer was given a parka to keep us warm by Katmandu.  Mine finally came and I had fun trying it on with my three: April, Daniel and Connor!!
Subscribe to get daily updates during the voyage
26 days until I sail to Antarctica!  I won't have Internet, so if you want to follow my journey and see the flag launch over the ice, you need to subscribe to the Homeward Bound media feed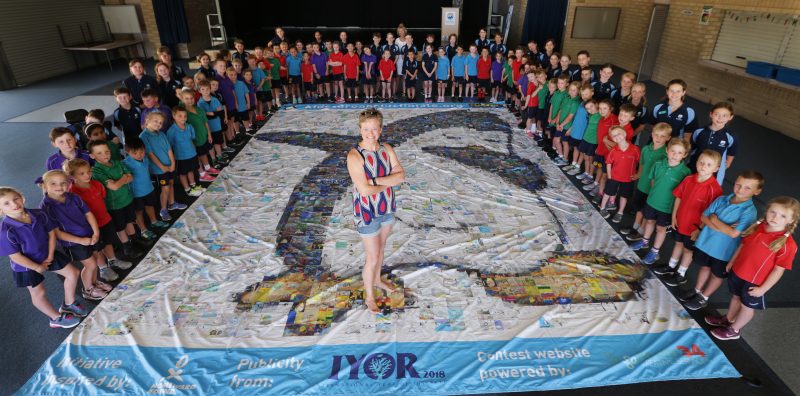 Photographer: Martin Kennealey – Community News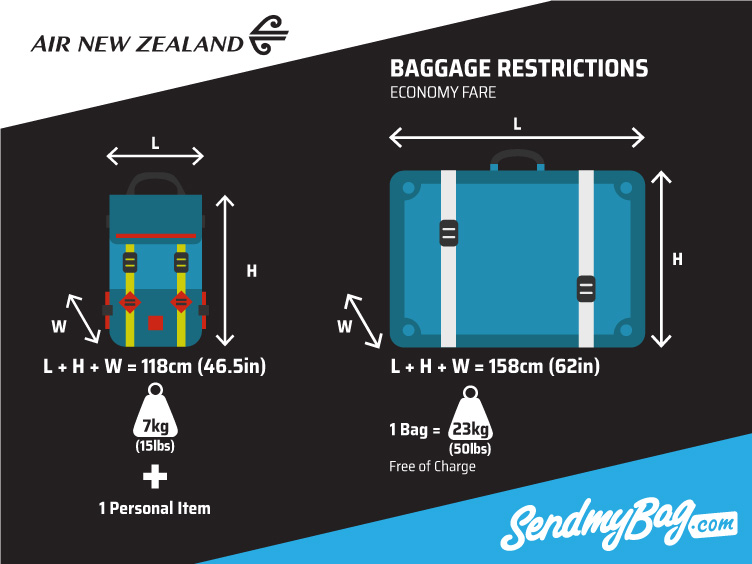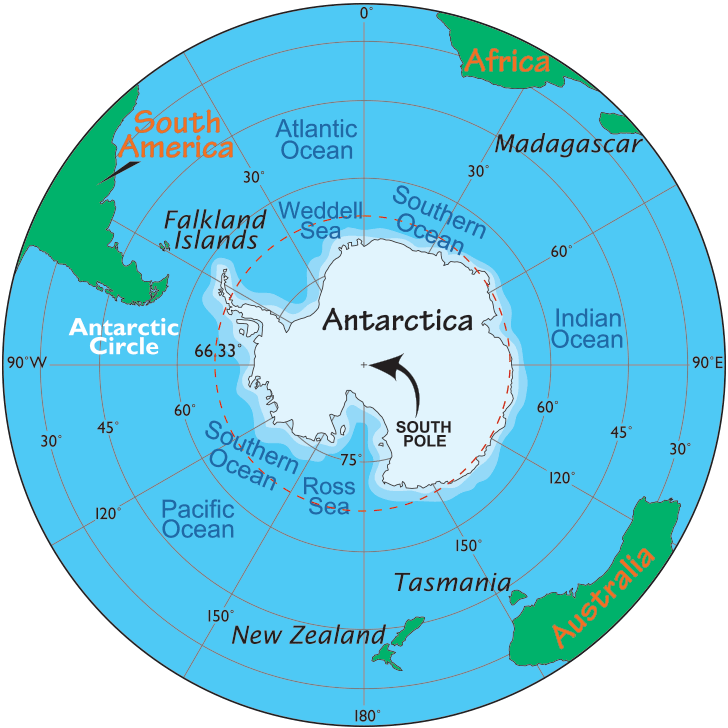 Thank you Beaumaris Primary School!
1,246 drawings were entered into the #kidscareaboutclimatechange contest during Sept-Oct 2018 from 11 countries and 120 schools. The school with the largest number of entries was Beaumaris Primary School with 98 entries!!!
Their reward was to be the first to see and hold the GIANT flag!  It filled up most of the undercover area and the photographer had to stand on a ladder to get it all in.
Read the article in the Joondalup Times!
Listen to my radio interview with Perth radio station RTFM !
Read an article in the online newspaper 10daily that features my trip !
Next stop – Antarctica!!!
Now it's time to pack the flag up as tightly as possible in the hopes that I can fit it into a carry-on bag to take with me to Argentina – and then, ANTARCTICA!  I don't want to take any chance of it getting lost in my luggage and thus not being able to unfurl it on the ice with the 80 women scientists of Homeward Bound!
To do this, I have to fold the flag to fit within the dimensions in the picture and it can't weigh more than 7kg (8 pounds).  It's gonna be close!!!
Why am I going to Argentina and not Hobart?
Look at the map with Antarctica at the centre.  See how much closer it is to get to Antarctica from Argentina compared to Australia?  That's why!
Follow my journey!
26 days until I sail to Antarctica!  I won't have Internet, so if you want to follow my journey and see the flag launch over the ice, you need to subscribe to the Homeward Bound media feed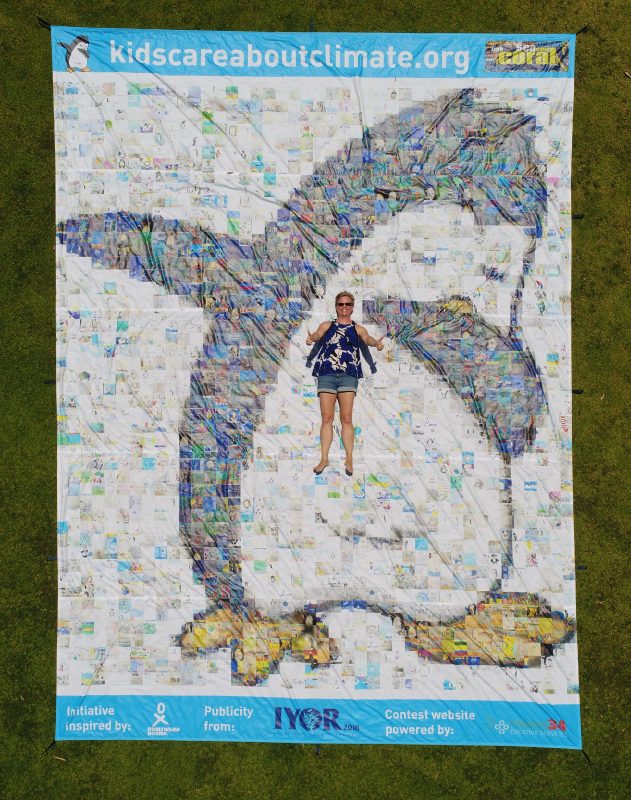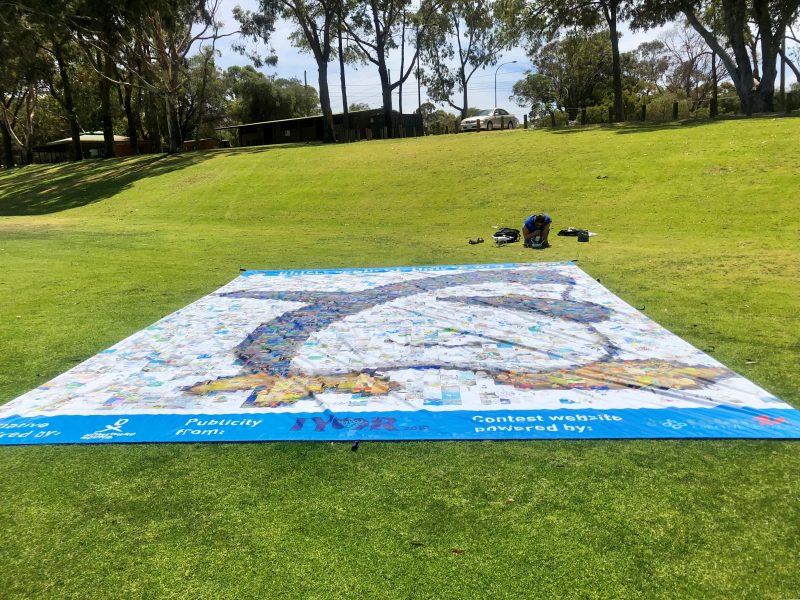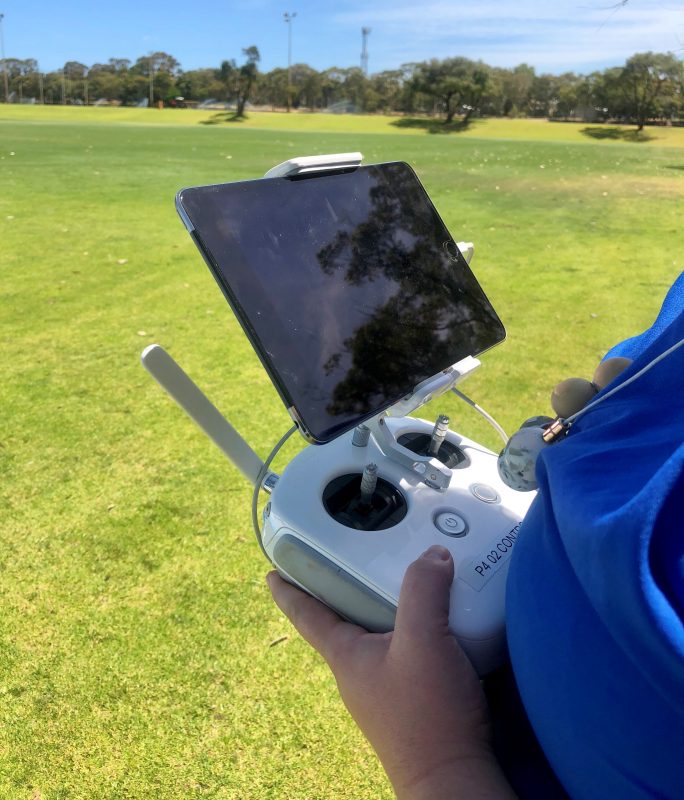 Hi everyone!
Guess what, 28 days until I sail for Antarctica!! Don't forget to subscribe to the Homeward Bound media feed so you can see us launch it over the ice in ANTARCTICA in early January!!
Drone fly-over update
In my last update I said it was windy – and it was TOO windy!  The flag was flapping everywhere and it was unsafe to launch the drone in 40+ km/hr winds.
So… we were lucky and had a still day today!  Here are some photos – and a video from the footage.
How big is this flag??
I'm lying on the flag to give you a sense of how HUGE it is (7 by 5 m).  In the video below, I do a bit of dabbing with glee that the flag is done and that today is calm!
Thank you, Sharyn!
The ever awesome Sharyn shot epic drone footage for me.  The flag is so BIG that she had to fly high to get it all in.  In the video to come, you'll see it from super high and then gradually zoom in until you can see the individual drawings.  When not messing about with GIANT flags, Sharyn takes drone footage of mangroves and coral reefs to help study them and how they are changing in response to climate change.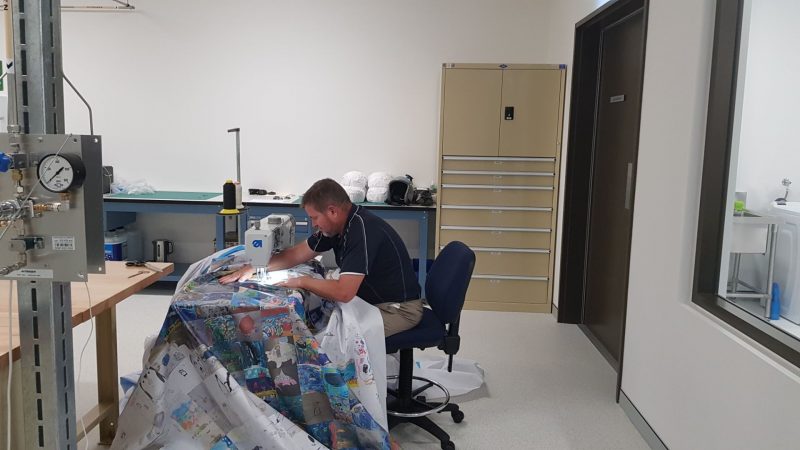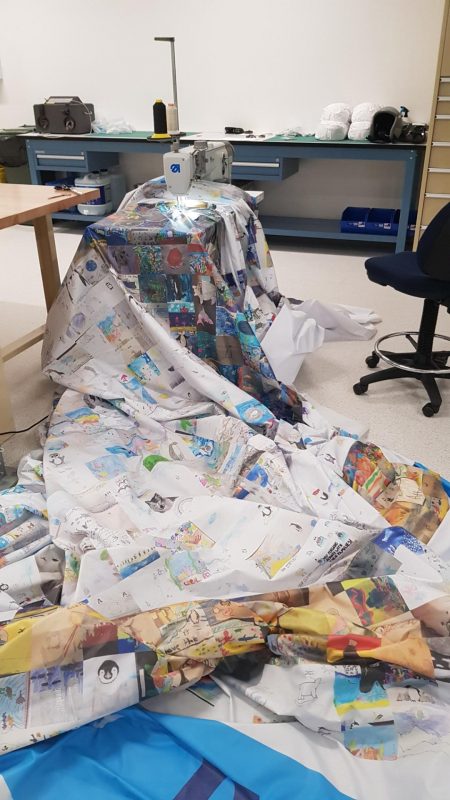 Drone fly-over today!
Today is another exciting day!  My friend Sharyn is a drone pilot and will be doing a fly-over of the flag at lunchtime!!  I'll be editing the video today or tomorrow and it will be the subject of the next update (assuming all goes well).  I've got tent pegs to stake the flag down on the oval – because this is Perth, and it is always windy!!
More sewing pictures
Meanwhile, here are some pictures of Glenn doing the double-stitching around the edge of the flag.  You can see how very HUGE the flag is compared to the sewing machine.  Luckily industrial sewing machines are built for this type of sewing of GIANT items.  For example, they are used to make canopies for aircraft and life rafts, sails for boats, and even underwater parachutes (which act as anchors to ships in deep seas when conditions are rough).
Track my journey to Antarctica with the flag
subscribe to the Homeward Bound media feed so you can see us launch it over the ice in ANTARCTICA in early January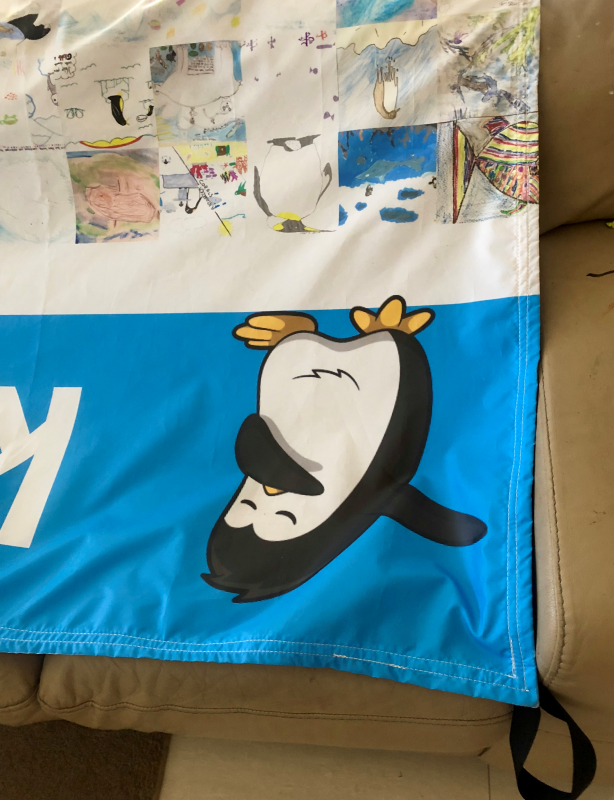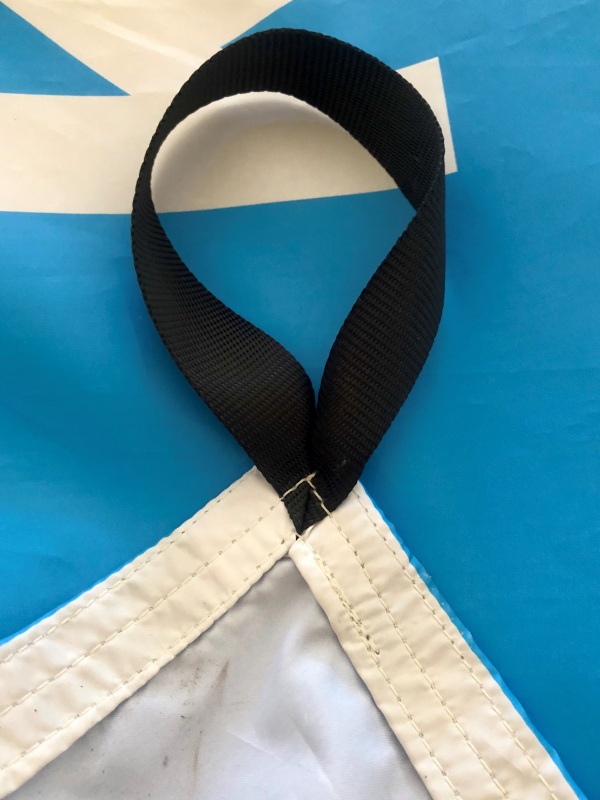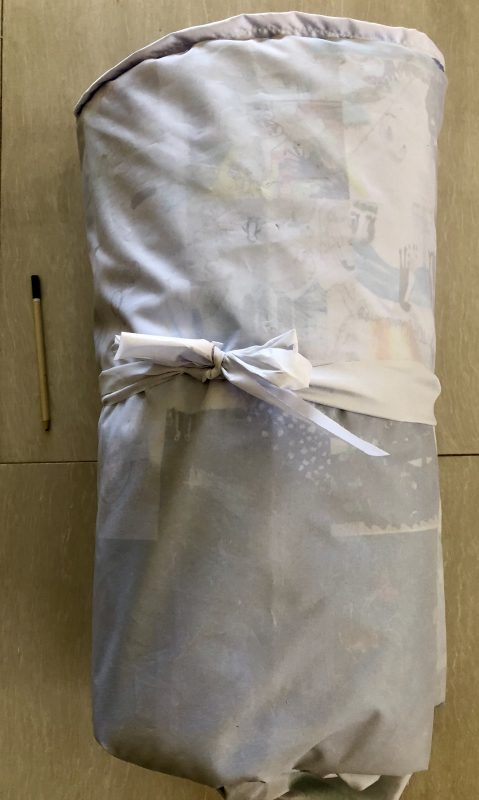 Ready for launch!
The flag (more like a GIGANTIC banner) is now completely ready to use – one step closer to launching it in Antarctica!!!!!  Don't forget to subscribe to the Homeward Bound media feed so you can see us launch it over the ice in ANTARCTICA in early January
Once Glenn sewed all five panels together, it was important to make sure that the flag would not unravel over time.  To prevent this, Glenn:
kept extra fabric all around the edges
folded the extra fabric over with a webbing (like a seat belt) inside it
used a double stitch to securely sew it together, and
created several loops of webbing at regular intervals to create 'handles'.
Because of the above, the flag can now be:
secured flat on the ground when it is windy by securing tent pegs through the handles (important in Perth – it's always windy!)
held by many people, some using the handles; some holding the edge
hung from a balcony or against a wall (assuming it is big enough!!!)
What's next?
On 5 Dec, the 98 kids from Beaumaris Primary School (Australia) who entered drawings in the contest will be the first to hold the flag as a THANK YOU to them for having the highest number of entries of any of the participating 120 schools!  A photographer will take photos for a newspaper article – once it comes out, I'll share it
Sometime this week, I will post a video taken by drone of the banner, thanks to my friend Sharyn who is a drone pilot!
And Glenn has promised me more pictures of him sewing the flag.
How will I fit the flag in a suitcase??
I'm relieved to say that I was able to fold the flag small enough to fit in a duffel bag (see pencil for scale).  I'm going to try to pack it down small enough to fit in carry-on luggage.  I'd hate for it to be lost baggage and then never get to fly over Antarctica!!! But I also have to bring my laptop – so I might not be able to do both…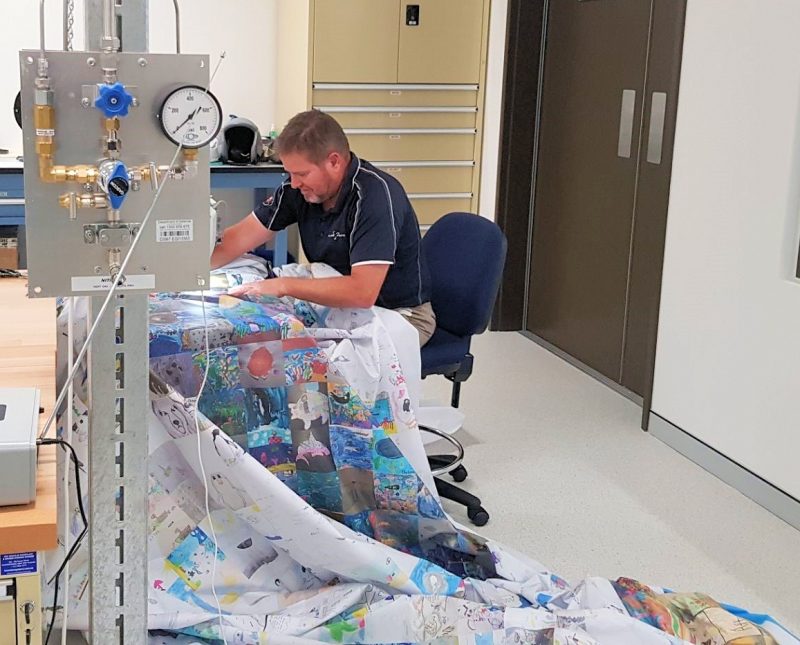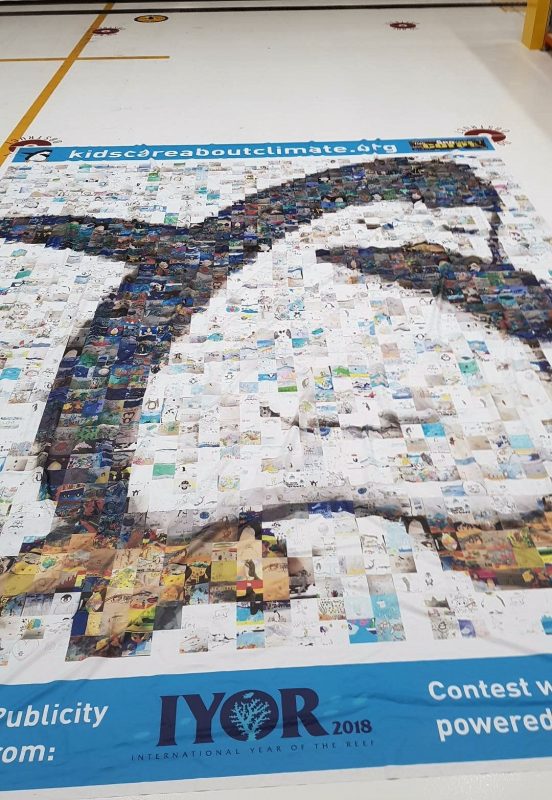 Another epic day for the creation of the flag of your 1,246 drawings!!  My multi-talented husband (Glenn) is sewing together the last two of the five panels of the flag to reach its full size of 7 m by 5.18 m!!!
It is not an easy task, as he has to match up each drawing perfectly or else the mosaic will not look like the dabbing penguin.
He is using an industrial sewing machine which is up to the task of working with such a huge volume of material.  This will also mean that the stitching is very strong.  That is important so that the banner can handle the conditions in Antarctica.  And I'd like to show it to as many kids as possible next year!!
Scroll down to the see the next picture – of all 5 panels finally all sewn together – WHOOP WHOOP!!!  Next, Glenn will carefully double-stitch around the entire banner to make it extra strong to be sure that it doesn't unravel.
He will also attach webbing to the back of the banner to make it easier for people to hold.  Remember, 80 women scientists (including me!) will hold it over the ice in Antarctica in just over a month's time (January)!!
Don't forget to subscribe to the Homeward Bound media feed so you can see us launch it over the ice in ANTARCTICA in early January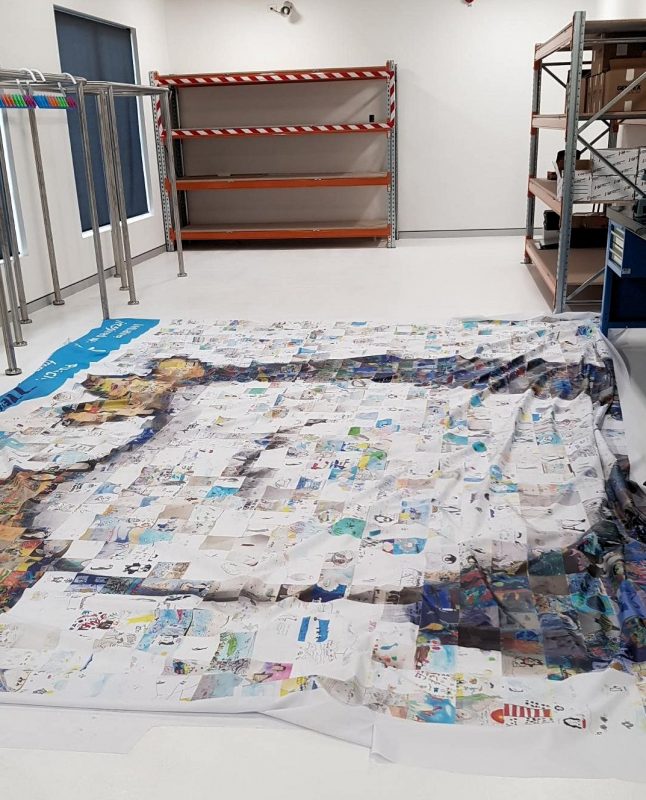 Yesterday was very exciting because the 5 GIANT panels of drawings that will make up the flag were printed by UniPrint at the University of Western Australia in Perth!  I bet you've been wondering how in the world I will sew such huge pieces together…
Lucky for me, my husband has had experience using industrial sewing machines to make canvases for aircraft, sail shades for gardens, and underwater parachutes.  Today, he is sewing the flag panels together for me.  So far, he's completed 3 of the 5 panels.  Then, once all sewn together, he'll secure the edges so that the flag doesn't unravel over time.  And he'll attach a webbing around the edges to help me and the other 80 women scientists of Homeward Bound hold the flag in Antarctica when it is time to launch it over the ice.
Don't forget to subscribe to the Homeward Bound media feed so you can see us launch it over the ice in ANTARCTICA in early January
Today was a very, very EXCITING day!  The five panels that will make up the flag were printed at UniPrint at the University of Western Australia in Perth!!  The video shows you one of the panels and then another one as it comes out of the printer.
Once it is all sewn together, the flag will be 7 metres high and 5.18 metres wide.  In my next post, I will hopefully be able to show some photos of my marvellous husband sewing the panels together on an industrial sewing machine.
It's all happening!!!
Don't forget to subscribe to the Homeward Bound media feed so you can see us launch it over the ice in ANTARCTICA in early January
Flag Update (19 Nov 2018)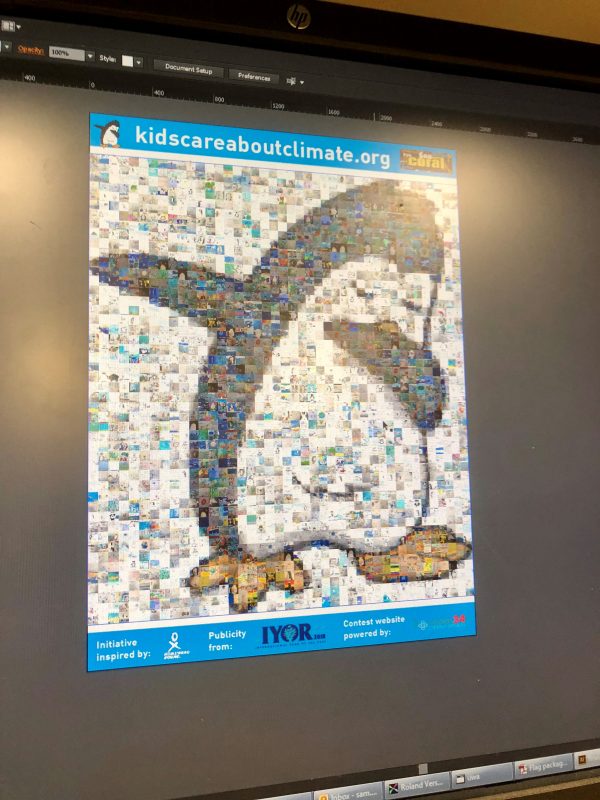 A problem!
In my last entry, I mentioned that so many of you submitted gorgeous drawings (1,246, in fact!) that it crashed Sam of UniPrint's computer.  Sam and I then realised that to resize every drawing so that the computer could handle them would take WAY TOO LONG (over a week, doing nothing else but that ALL DAY LONG).
I was very worried because there is NO WAY I can go to Antarctica without the flag and the ship sails JUST 42 DAYS from now!!!
I actually need the flag to be ready way before then!  My family and I (Glenn, April -11, Daniel – 6, Connor -6, Teddy the dog) are camping our way from Perth, Western Australia to Melbourne from 16 December and I'll fly to Argentina to meet the ship on 26 December.  For those of you who don't live in Australia, it's a very very LONG drive all the way across the southern coast of Australia.  And the flag needs to be ready even EARLIER than that because my talented and generous friend Sharyn is a drone pilot who is going to fly her drone over the flag at very low altitude and film the flag in detail for a movie I'll make of it.
The solution!!
So I met with Sam at UniPrint earlier this morning and we decided to use the mosaic of the drawings in the shape of the dabbing penguin as the basis of the design (see picture).  We weren't going to do this before because the size of the flag means it will have to be printed in 4 long sections and then sewn together.  I was worried that it would be impossible to match up the sections well enough to avoid ruining the design.
But – it turns out that my husband (Glenn) will save the day!  He is very skilled at using an industrial sewing machine.  He is confident he can sew the panels together with high precision – YAY!!
What's next?
Sam will start printing the flag on Friday.  I will take some pictures and footage and show you then!
Flag Update (15 Nov 2018)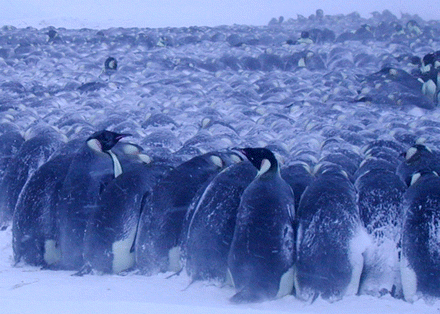 Look at all those Emporer penguins huddling together during an Antarctic winter to keep warm!!  I haven't counted them, but I'm sure we had just as many or more drawings in the 'Kids Care about Climate Change' drawing contest – 1,246 to be exact.  That meant when Sam, our friendly graphics designer who is printing the GIANT flag, tried to assemble them together into the 4 panels her computer crashed!!  I am working on resizing them for her so we can start printing NEXT WEEK!  She said I can film some video and take some photos, so make sure you check to back for the next update!!
The flag is at the printers!  It will be made of 4 sections that are 8m long – all up it will be about 5 m wide and 8 m long!!!  Next week, I hope to show you pictures / video of it being formatted and printed.  And then, my husband will sew the pieces together using an industrial sewing machine.
Would you like to hear about my voyage to Antarctica as it unfolds this January?  I will have almost no internet connectivity, so the leaders of our voyage (Homeward Bound) will send out a message per day with pictures and video about what we are doing.  Click on the link to the left to subscribe!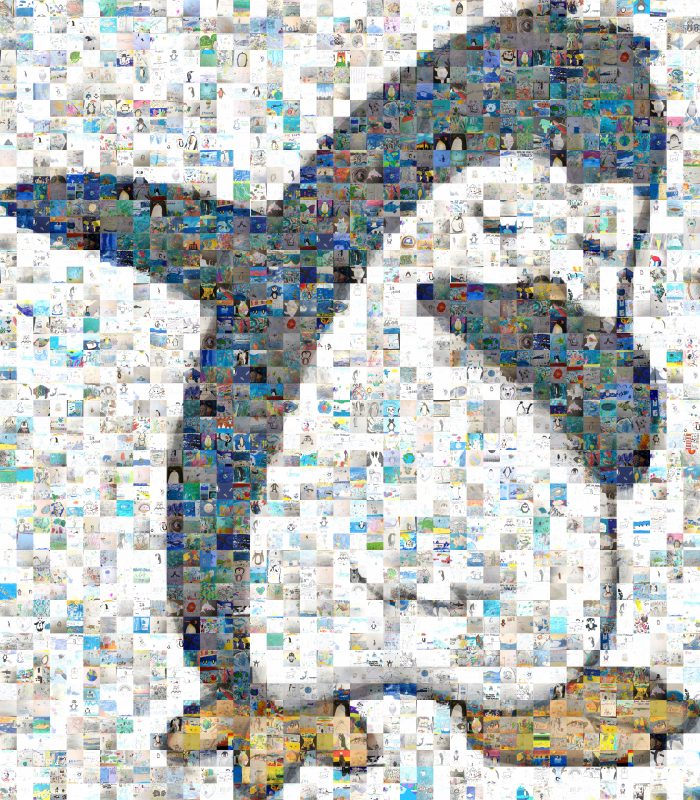 The contest closed on 30th October and I'm still in shock at how many of you entered!!! 1,246 drawings (some of which were team efforts) from 11 countries and 120+ schools!!!!  WOW!!!!!!!!!  Words aren't enough to explain how much I appreciate you entrusting your artworks with me – I will do everything I possibly can to get as many adults to see your drawings as possible.
My first step was to put together a mosaic in the shape of the dabbing penguin using every drawing. Go to the News page and you can 'fly' through it and zoom in and out of it interactively.  Click on the 'M' icon to view it in Mosaically – then you can 'like' it and 'share' it via social media.  The more you 'share' it, the more adults will see your amazing drawings and know that kids really do care about climate change!!
Now it is time for me to put together what will be a MASSIVELY HUGE flag. Actually, because I have so many drawings to include that it will be more of a banner than a flag. The final details are still being worked out, but my aim is for each drawing to be shown at 1/2 of an A4 sized piece of paper. That means the banner is likely to be about 4 m high and 10 m wide!!! That's about the size of a double car garage!!
Good thing there will be 80 of us women scientists on the ship in Antarctica to hold it up. We can each grab a part of it and I'll get someone from the ship or perhaps up on a hill to take pictures and video.